Finally made it to the Neue Gallerie for the Berlin Metropolis exhibit.
Verdict: Ehhhhhh glad I went, slightly disappointed not more Otto Dix (tho' this work is great), but taken with the work of John Heartfield (about whom I knew nothing prior to this exhibit) and pleased to see some of George Grosz's work up close (although I didn't know that there was more than 'Metropolis' painting: I was thinking of this one, but the Gallerie hung this one).
There were a fair number of movie stills and drawings for movie sets, which didn't rock my world, but I'm sure would be of interest to film aficionados. There were a few fashion items (shoes, dresses, hats), and some architectural renderings. Oh, and Walter Ruttman's Berlin: Symphony of a Metropolis played on continuous loop; I watched about a third of it, but will catch the rest on YouTube.
I also checked out the (small) permanent collection, and, oh my, they have a number of Klimt's—including the famous portrait of Adele Bloch-Bauer, which is, as expected, completely astonishing.
But what stood me still was this smaller piece by Klimt, Girl in the Foliage: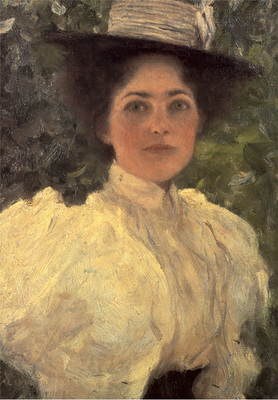 As noted, it's small—less than 13×10—but man, there's something about that face, her eyes, that I couldn't stop looking at. I stood back, I went in close, I stood back. I left, I came back, left again, came back again.
It's just. . . I . . . I lack the words for this image, for how it affects me, not mesmerizing, maybe mesmerizing. . . I don't know. I can only repeat: it stood me still.
I can ask for nothing else.